P2.976 Rental Indoor LED Panel Display Screen 500mmX500mm Rental LED Cabinet Cabinet
Ligh:500*500mm,7.5~7.85kg/cabinet ;one person can carry,installation saves time and effort.
Thin: die-casting aluminum,hight-strength ,hight-tenacity,high-precision ,not easy to deform,thickness only for 8cm.
Flat :flatness error less than or equal to 0.1mm ,effectively eliminate mosaic phebomenon.
Fast: cabinet UDLR use fast lock , tow seconds locked adjacent cabinets, air plug wiring connect more fast.
Easy :magnetic modular design , any position breakdown can easy to front/back service and installation.
Allow :compatibility design , allow indoor and outdoor liftoing ,allow various dot pitch .
Height : hight-gray ,high-refresh ,gray 13bit ,refresh rate 1920/3840Hz.
Low: heat dissipation design,no need fan and air conditioner, low noise , less weight , low power dissipation.
Customized: If have

special needs on size, lamps, IC or other requests

, pls contact us online or email us.
2 Year Warranty
Free tech guide
5% Spare Part, Power Supply, Receiver cards

included.

Lead time: 15-21 working days.

Package:Flight Case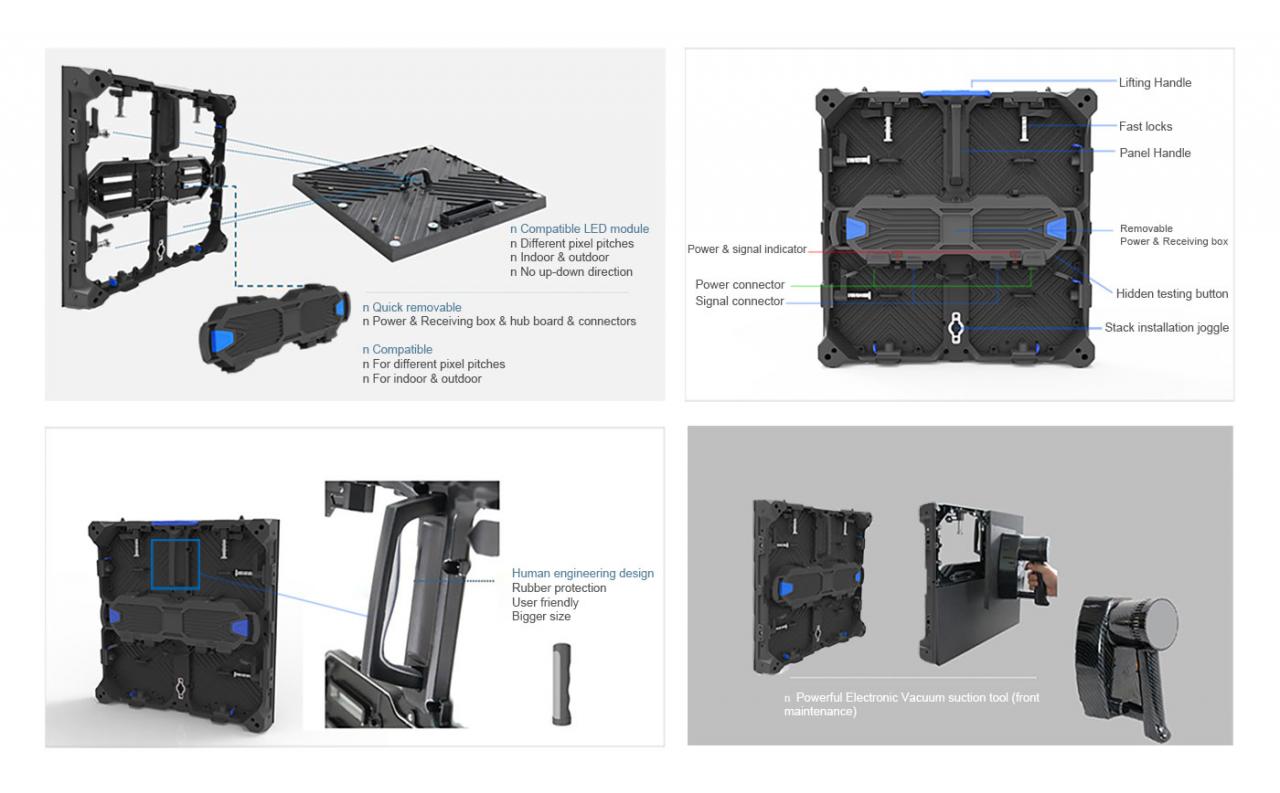 P2.976 Rental Indoor LED Panel Display Screen 500mmX500mm Rental LED Cabinet Specifications
Indoor
Outdoor
Pixel Pitch
1.953mm
2.604mm
2.976mm
3.91mm
4.81mm
2.976mm
3.91mm
4.81mm
LED Type
SMD1515
SMD1515
SMD1515
SMD2121
SMD2121
SMD1415
SMD1921
SMD1921
Density (dots/m²)
262144
147456
112608
65025
43264
112896
65025
43264
Scan
1/32
1/32
1/14
1/16
1/13
1/21
1/16
1/13
Module Resolution (dots)
128×128
96×96
84×84
64×64
52×52
84×84
64×64
52×52
Cabinet Resolution
256×256
192×192
168×168
128×128
104×104
168×168
128×128
104×104
Refresh rate
3840 HZ
3840 HZ
1920 HZ
1920 HZ
1920 HZ
3840 HZ
3840 HZ
3840 HZ
Protective grade
IP54
IP65
Brightness
800-1000cd/m²
4500-5000cd/m²
Cabinet Weight
7.5 kg / 16.53 lbs
Module Size
250x250mm
Cabinet Size
500 x 500 x 80 mm (WxHxD)/ 19.6 x 19.6 x 3.14 inch (WxHxD)
Material
Magnesium alloy
View Angle
140 degree ( horizontal)  140 degree(vertical)
Digital Processing
14/16 Bit
Gray Scale
16384  Level
Colors
 687 Million
Serviceability
Front and back service
Certifications
CE, UL, FCC class A, RoHS, WEE, REACH
Warranty
2 years standard product warranty