Novastar MRV560 MRV560-1 LED Receiving Card EMC LED Display Controller Card Features:
MRV560 is the EMC version of MRV360 with its effective reduction of the electromagnetic radiation of the whole system.
1)Single card outputs 16-group of RGBR 'data;
2)Single card outputs 20-group of RGB data;
3)Single card outputs 64-group of serial data;
4)MOM can store calibration coefficient and LED module information;
5)Single card supports resolution of 256×226;
6)Configuration file readback;
7)Temperature monitoring;
8)Ethernet cable communication status detection;
9)Power supply voltage detection;
10)High gray scale and high refresh rate;
11)Pixel-by-pixel brightness and chromaticity calibration.
12)Brightness and chromaticity calibration coefficients for each LED;
13)Pre-store picture setting;
14)Able to connect monitoring card to achieve comprehensive monitoring;
15)Comply with RoHS standard;
16)Comply with EU CE-EMC Class B standard.
Recognition of Novastar MRV560 Series Card:
To meet theneeds of different customers, Nova provides more specific models of the products,including standard products in stock, other models need to be customized;
| | |
| --- | --- |
| Model | Specification |
| MRV560-1 | Standard model, male connector on top |
| MRV560-2 | Male connector on bottom |
| MRV560-3 | Female connector on top |
| MRV560-4 | Female connector on bottom |
Novastar MRV560 MRV560-1 LED Receiving Card EMC LED Display Controller Card Connect Interface Definition: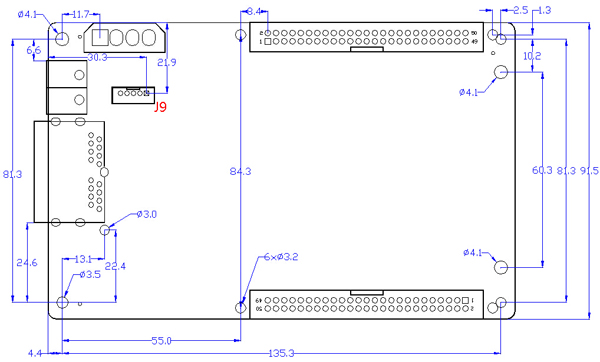 J4 definition(MOM interface):
| | | | |
| --- | --- | --- | --- |
| GND | 1 | 2 | SPI_CS |
| SPI_CLK | 3 | 4 | SPI_MOSI |
| CODE0 | 5 | 6 | H164_CSD |
| CODE1 | 7 | 8 | H164_CLK |
| CODE2 | 9 | 10 | |
| | 11 | 12 | CODE3 |
| CODE4 | 13 | 14 | |
| | 15 | 16 | SPI_MISO |
| | 17 | 18 | |
| | 19 | 20 | GND |
J9 definition(Indicator light Socket):
| | | | | |
| --- | --- | --- | --- | --- |
| 1 | 2 | 3 | 4 | 5 |
| STA_LED | LED +/3.3V | PWR_LED – | KEY + | KEY -/GND |
J10 definition(Indicator Socket):
| | | | | | |
| --- | --- | --- | --- | --- | --- |
| 1 | 2 | 3 | 4 | 5 | 6 |
| KEY + | KEY – | PWR_LED+ | PWR_LED- | STA_LED+ | STA_LED- |